MY blog .
EMAIL: SHERITRA@THE-SHERI-TREE.NET
As you know i'm sheri, also sherette and John so hey glad to know you... watch this space...
I want you to read my blog like you would a favourite old book you have, snuggle up in your 'bunny gown' with your favourite mug of hot choccy and enjoy!
Here's my blog:-
26 May 2019
15:07 I'M HOME FROM HOSPITAL. IT'S ... NICE ...
I'VE DONE LOADS OF ART AND STUFF, DOES ANYONE KNOW WHO WANTS A LOOK?
I'VE GOT A LOT OF PRETTY NEW PANTIES AND DRESSES AND STUFF BUT I DON'T WANT TO WEAR THEM.. WHAT'S GOING ON..?
BEEF CASSEROLE DINNER THAT'S WHAT WHEN SERRY GETS HERE ..YAWN. (PSST- SKIN UP, DON'T TELL THE AUTHORITIES !)
BRB [I'LL BE RIGHT BACK] [BTW = BY THE WAY, PMSL = PISSING MY SELF LAUGHING]
21 July 2019 7:29
SO, WHAT IT IS NOW IS THAT I HAVE TO TRY AND DRESS UP IN SKIRTS AND DRESSES AND GET ALL TARTED UP AND THAT BUT IF I GET CAUGHT BY THE OMHT THEN I GET SECTIONED INTO AN ALL MALE WARD FOR WEEKS AT A TIME! NO SMOKING NO DRINKING NO SEX NO HOME COMFORTS -WE'RE TALKIN' PLASTIC TEACUPS AND GOBBING IN THE MILK HERE. IT'S A FUNNY GAME THEY WANNA PLAY BUT HEY I REMEMBER JEREMY BEADLE! I'M HALF EXPECTING HIS GRINNING FACE TO APPEAR FROM BEHIND A CURTAIN SOMEWHERE LOL THIS IS GAME FOR A LAUGH ISN'T IT? TALKING OF DARES WE PLAY DOUBLE DARE TOO SO THAT'S WHERE THE FUN REALLY STARTS..PMSL. OH BRB.
SO, I'VE HAD A HONEYSUCKLE AND HERBAL ESSANCES SHOWER AND I'VE BEEN FOR A 1 MILE BIKE RIDE SO NOW A QUICK GLASS OF HEAD HONCHO AND I'M DOING BACON AND EGGS- COOL!
25 July 2019 13:07
IT IS THE HOTTEST DAY EVER RECORDED TODAY HERE NOW- PHEW NEED A FAN LOL. NEW FILM IDEA: 'CARRY ON UP THE GENDER CLINIC'. THE NEIGHBOURS GOT FRIENDLY AND INVITED ME TO THEIR HOT TUB IN MY OWN GARDEN BUT I'M NOT SURE AS THE WATER HAS BEEN IN THERE UNCHANGED FOR 8 WEEKS EW. I SOMETIMES WISH JAMES WHALE WOULD TAKE ME ON A LUXURY ISLAND HOLIDAY TRIP AND WE HAVE A REALLY GOOD TIME AND STUFF- DREAM ON SHERI.
26 July 2019 12:52
MAKE THAT HOLIDAY PARTNER HARRY HILL INSTEAD (OR ASWELL!), THERE'S NOTHING LIKE A FUNNY GENIUS WHO MAKES YOU LAUGH (ALIEN FUN CAPSULE PMFSL).
11 August 2019 12:33 (Sunday)
Seriously though, one of the worst things about being in the mental hospital was that one day the whole ward wreaked of puke all day and they locked the entrance to the little non-smoking garden area so you couldn't get away from it. Eight weeks last spring, seven weeks in there this spring, and there's naff all wrong with me- this shouldn't be allowed.
Abolish the 1983/4 Mental Health Act or you're control freaks aswell as crazy. Antipsycotic pharmaceutical drugs are bad news and it's basically unjustified legalised drug pushing and false imprisonment linked with insults, character assasination, blackmail and harassment. These people have ruined my life in the name of care for over thirty years and it continues. Anyway, you're paying for it so enjoy my art for free and it doesn't need to mean I'm ill.
Another thing, when thay sectioned me in 2018 one of the staff told me I had to hand in my pendant for safe keeping and it went into the staff ward safe in a locked office. When I came to claim it back it had gone missing and it was Sterling silver with a Citrine stone in it worth about £300, bad loss let alone the sentimental value.
I can never be quite sure when the next attack from the NHS is going to happen to me but I'll try not to worry too much and do what I can to help you all meanwhile. Don't worry yourself about me though, I can look after myself, I don't want you to develop stress eczma on your scalp too and suffer from extra pyramidal effects from the 'medication' ("Open your mouth let me see if you have swallowed it or not"), I know how sore that can be. The shrink who sections me, Fiona M Pharoah in Unit550, Gordon Road, High Wycombe, Buckinghamshire, HP13 6EQ, UK; (T1000 terminator unit reports target aquired. John pipe up this is serious); said I wasn't allowed to use my car for three months after getting let out of there. I'm still on a section at home and I don't want to be, I don't think it's justified at least in my case and most others. If you really do care for people then help me to get the law changed as regards the mental health act, it's hurt us so much enough is enough, they're damned bullies; the section hospitals are diabolical if you know anyone who it's happened to and their whole approach to people and care seems to be flawed in the almost opposite to correctness, they are so out of touch and out of date and use the law in a way that hurts people like guinnie pigs and doesn't help one bit. I'm proud that I'm a normal enough and good person, and like mum used to say "You can't hold a good man down for long." Ouch.
Start here :-
Mental Health Act Office
White building
Littlemore Mental Health Centre
Sandford road
Littlemore
Oxford OX4 4XN
NHS: 406 311 2292
Telephone Number: +44 (0)1865 902036
Phone 'em up and give 'em some shit will ya, I can't take on the whole institution on my own, have a heart.
13 August 2019
Right enough, an attack happened to me this morning by Neville Mafunu (Care coordinator from OMHT OXFORD MENTAL HEALTH TRUST) with nasty chemicals from a hyperdermic needle into me- I can't refuse it or they put me back in the torture ward- Blackmail (Black male, Shez you're too funny). Just to top things off I was the victim of road rage this afternoon aswell, and he's put a great big dent in me Jag the bastard. I've done the police report so he should get a ban and a fine, the funny thing is the bloke behind me got the whole thing on his dash cam and he gave me his card so he can submit it to the police. Havin a beer now, might put a skirt on for bit of comfort. Cheers.
14 August 2019
Morning. More on that road rage yesterday. The guy with the dash cam emailed me saying he restarted his car and so lost the footage. I have given a description of the man and the van in the police report so there's still hope that the bugger will get done for it.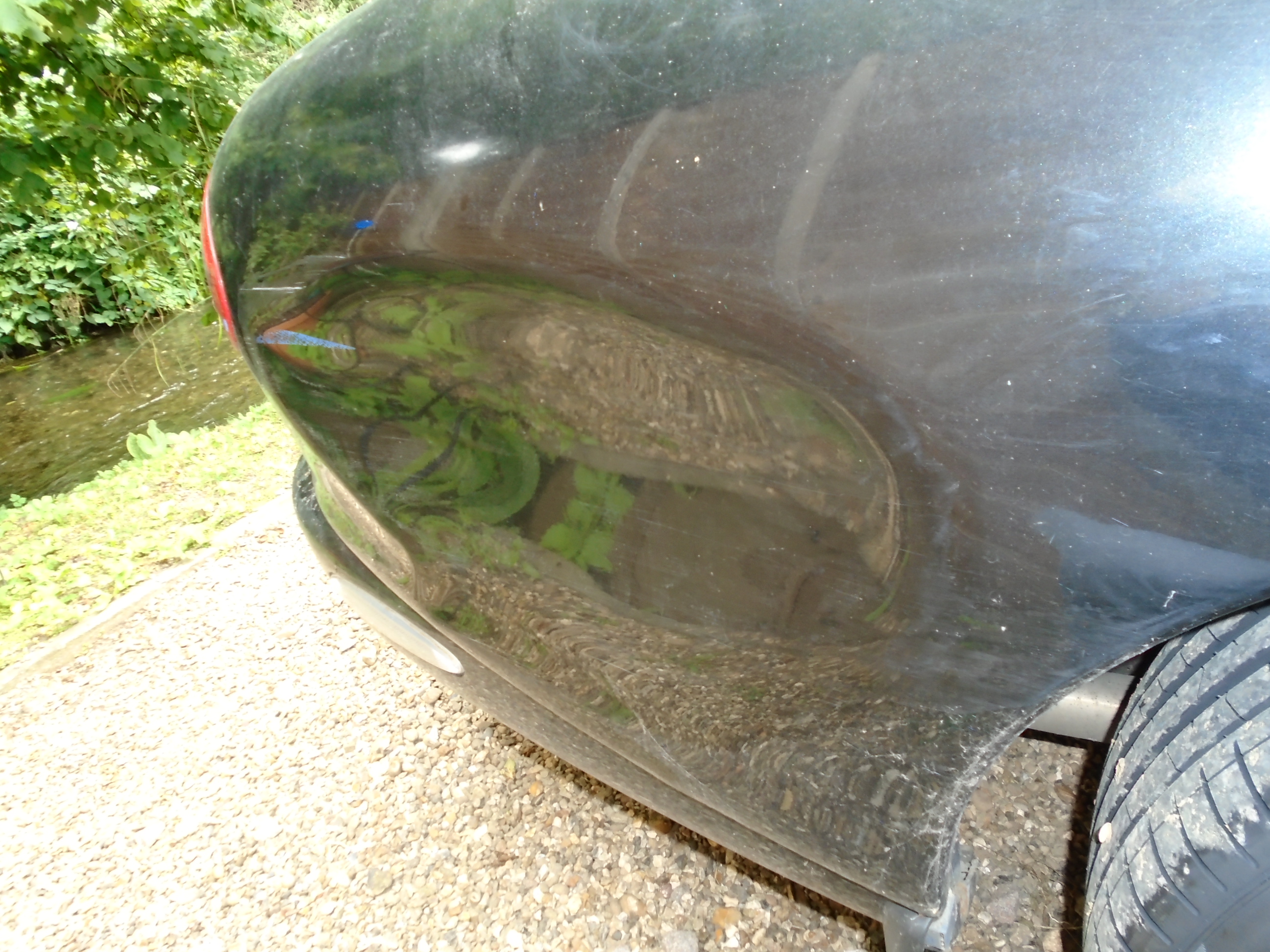 Pissin' down here today Joe.
So, the van man had straggly black heavy-metal hair, typical bad character steryotype image (I never got into head banging dancing did you?). He was about thirty something and the van was a small courier type thing, blue with yellow lettering: 'AQUARIUM'. I don't like people who keep animals in little tanks and cages unless they're the RSPCA who have good reasons to do so.
You know, sometimes I feel a bit like that fish in the tank, especially when they throw me into the asylum.
So, my mother died in February this year and my father (The Devil) has declared his estate as about 6 Million pounds worth. I however am five grand in debt, I can't afford to go to the dentist to get my teeth fixed and can't afford a new shower unit (the old one cuts out after about 5 mins and it's not quite long enough and I end up standing there wet and shivering with soap all in me hair), and I need new tyres for my motor. The care plan notes refer to my old man as 'very supportive', pull the other one, next you'll be telling me that Scrooge is Mother Theresa lol. One example of just how selfish he is, is when he bought another new Bentley. He paid the dealership an extra £50,000 so he could have the first one off the production line even though it's the same as all the others, while his talented yet skint son rots in mental hospital, where Brian (yes, the Beast has a name in real life) wrongly put him, and he gets praised in the notes for being generous and supportive. John's Jesus and he's saved us all, come on let's have that discharge and a round of applause, (that was John Lennon's mistake weren't it).
Look, if I'm the bearded woman, sometimes the stubble feels good and at other times terrible so I can always shave it off and therefore enjoy the best of both worlds. If people don't like it, well my purpose in life is not to satisfy their personal specification of requirements as far as how I look is concerned- right? I'll wear what I want to fuckin wear and how I want to wear it.
Rain's on again Jo.
Tell the truth and shame the devil.
Get thee behind me Satan.
15 August 2019
I'll leave you for now with a little giggler:
"Who's Brian's favourite composer? ...
... Mentalson. "
17 August 2019
So I called my dad and told him I can't afford to go to the dentist and it came out that the Oxford mental health lot have told him not to give me any large sums of money! (Damn, that's me inheritance gone an'all. lol) It's getting far beyond a joke and in fact it was never funny just cruel and bang out of order. I've a good mind to just go and punch him in the face but he might turn into a winged goat type creature from the bat out of hell album cover and eat me up lol.
One thing that's made up for it a bit is I got Number 1 on Number One Music.com.
19 August 2019
There's no point writing to HM Lizzie the Lizard it'll probably never get there, (there's the knighthood gone too lol- anything else?)
21 August 2019
Okay that's four brand new Pirelli P-Zeros on the Jag. I confronted Nev about the Oxford mental health team telling my dad not to give me any money and he denied that they did so dad's telling 'porkie-pies' then? Anyway he's gonna pay for the tyres so long as I get Invoices lol It would be easier to get blood out of a stone.
27 August 2019
I usually have to pop down the road to the local shop to pick up my cigarettes every day or two so I thought I might get a carton to save me from having to go so often. When the assistant told me how much they were I had to consider taking out a second mortgage in order to afford them for Pete's sake, "...HOW MUCH !?.."
28 August 2019
So, the road rage bloke couldn't be traced by the cops leaving me with a £300 excess to pay. The bodyshop down the road quoted me over £700 and the mobile repair bloke didn't get back to me for a week so far, so that's me scuppered.
29 August 2019
I didn't see anyone again today so I decided to go over to 'the Happy' for a pint this evening. The trouble is although I had a pretty good laugh I had a few too many iced Coors for me own good. I had to abandon pint half way through at the end because I was so fucked lol, and staggered home somehow got to bed and barfed on me duvet. Still good fun- it's got to be done sometimes.
31 August 2019
Well, it would have been mum's birthday today but she died in February this year.
I have mirror closet doors in my bedroom and when I clean them (with windolene or the like to make a good job of it), I always wear seven-inch high heels to do it in- of which I have several pairs to choose from. This is because it allows me to reach to the top of the doors, as without them I can't. After I have done the high parts I take the heels off and put them away in a shoebox in the cupboard or under the bed because inappropriate wearing of them would be deamed as behaviour unbecoming of a male person ( a sectionable offence I'll have you know dear boy), plus it would be dangerous as I might twist my ankle or something all for the sake of a better reflection.
8 September 2019
It's late, nearly midnight, and I've just released my third album of a triple album on line- 'The Virgin Tapes' so having a few; serry came today, it was fun finding the old tapes. Thanks to her for the input of vocal and recorder on TVT3 she's a star.
10 September 2019
So 'Musing Unsaid' -my poetry book, has been out for 10 years now and I get a fiver for every copy sold (or should do). I'd love you to buy a copy or two as a thanks for all this free art and music I've given, it's the only money I would get and I give a percentage to charity: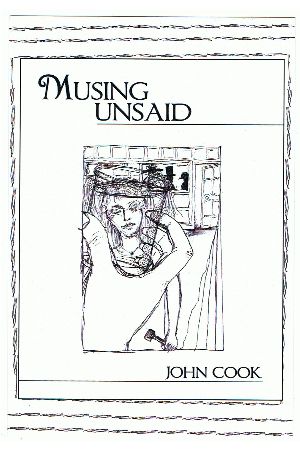 ~P.S. I love you~
Friday 13th September 2019
It seems that I have bad luck all year round until today, Friday the thirteenth, when I've had an absolutely lovely day. It was only yesterday I was thinking that I would quite like a 3/4 size classical to add to my guitar collection and today Pete gave me one and the sunshine is a beautiful late summer's day- it's gorgeous and plays like a dream- no charge plus I got to take the Jaguar over to Great Missenden (Roald Dahl territory) for a good run to see him and Trisha. Now Serry is here and I'm not on my own, great! Check this out: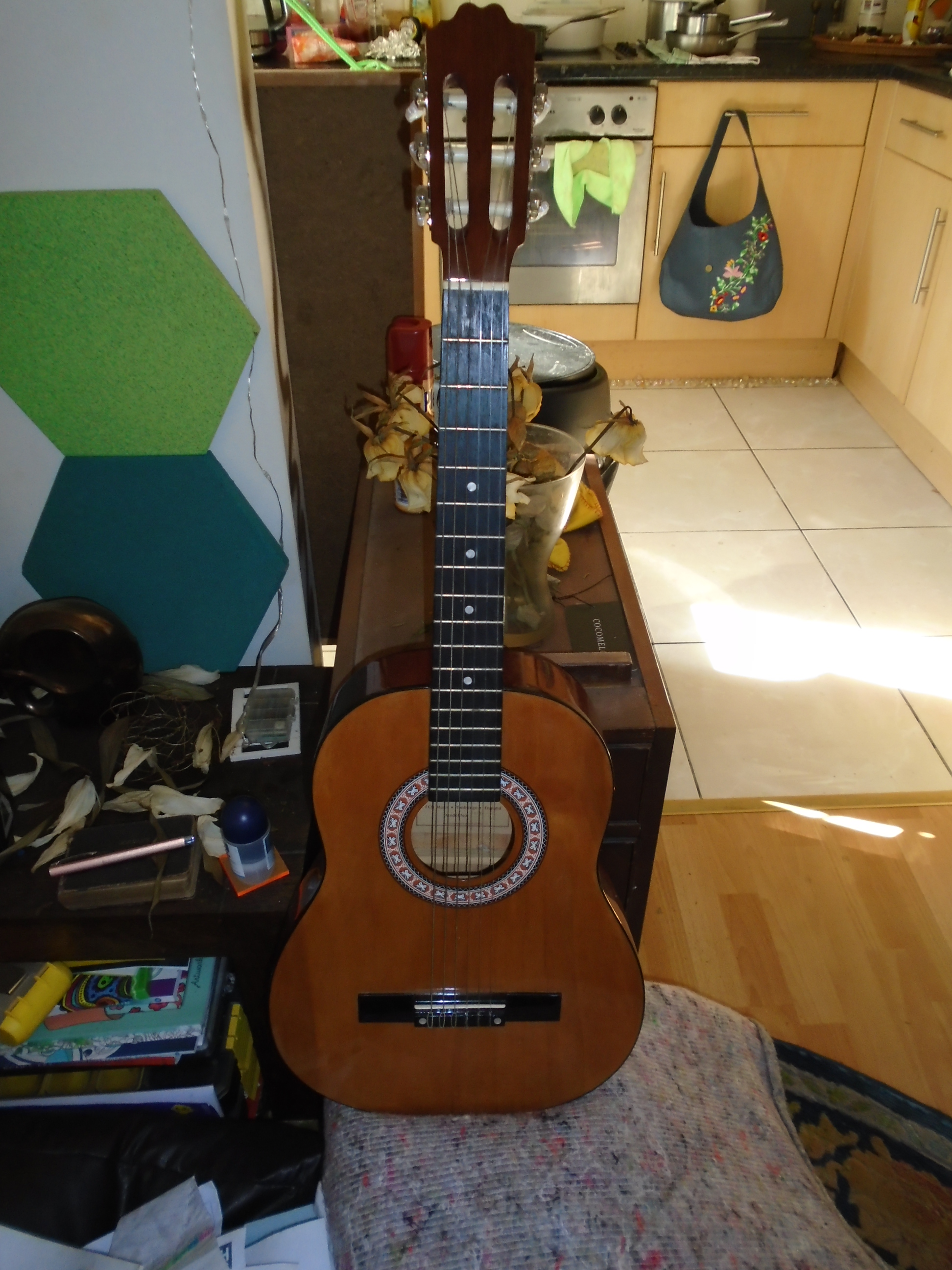 Here's a little improvisation I did about 10 mins ago on the Lorenzo- shh we got to keep the noise down. Pointer device click this underlined sentence to trigger the computer to play the audio file.
14 September 2019
The problem with the mental health system is that once a diagnosis has been made, an individual gets washed along with the system having little or no say and the diagnosis is never put in doubt, so there's no escape often even for a well person.
You know, following that, professor Brian Cox urges me to projectile vomit as far as the eye can see, that thing he does with his teeth and his top lip- aughh.
I've just recorded a christmas song for you- It's heavy Metal Rock and I'll release it as soon as I see the first X-Mas advert on TV. It's been a beautiful sunny day here today and real fun at Riversides studios. Serry's bringing lamb chops over and the dogs started barking downstairs. It's all happening here at Brooky.
24 September 2019
So it's pissed it down all morning and now there's loads of thunder! 'Thor sounds a clap!' -have you read 'Old Brown And The Weather' yet?
I think I might have been struck by lightening earlier and it's cured me of my Schizophrenia (if ever there was such a thing anyway)- It's a miracle!!
The name of the christmas song is 'Have A Heavey Mental Christmas' BTW.
Serry's coming round for Spag Bol now, mums' signature dish, love it!
30 September 2019
Well, I think I'll turn this into a musical blog. Here's a track I made earlier:
'Heaven knows I'm miserable now'
My Lyrics:
I've been riding on the bus down to Carpet Right
And Heaven knows I'm miserable now.
I was looking at a girl now she's out of sight
And Heaven knows it's true I'm miserable now.
In my life- there's been heartache and pain,
I was feeling kind of blue about an interview
But Heaven knows that I'm miserable now.
In my life- heartache and pain.
I was just riding on a bus now I'm walking in rain
And heaven knows I'm more than miserable now.
I still remember her name.
Only the face of a girl,
I can remember her name.
7 October 2019
So, it's 'depot day' tomorrow. Which means the country thinks you're crazy and need a jab of shite in the arm or the arse or we lock you up again. What they don't tell you is that the carrier fluid for the antipsychotic chemicals is Pig semen, (in fact it's a mixture of Pig, Donkey and Dog cum- they're not fussy), lovely isn't it? Cheers Nev, hope you're well too and BTW I'm Rank#1 for all genres in High Wycombe on NumberOneMusic.com so read it and weep fat boy!. Basically what it amounts to is that you lot are calling me a crazy fucker, while I pour out my heart with art and music for you, and fill my shoulder with Pig spunk or else, I get locked up and still have the damned injections.
20 October 2019