A collection of poems by John Cook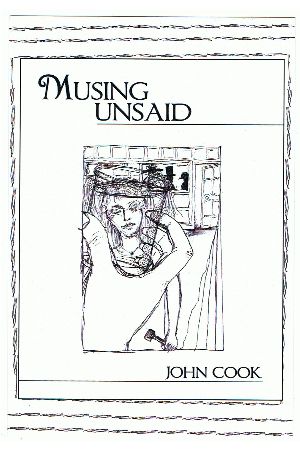 11"x8" colour softcover

(Click image for poems)

Available now from AuthorHouse for £14.50

www.authorhouse.com

888.280.7715
OFFER: "Buy 5 copies, and get a 'Blin-g' item for free ! "
Comments…
"Dumb"
"I was speechless when I read it"
"I don't know what to say!"


Order this title through your local bookseller or preferred on-line retailer.

978-1-4389-1277-6 (SC ISBN)

Email for a free limited edition compact 7x4" version.
<![if !supportLineBreakNewLine]>
<![endif]>

Other titles coming by this author :

'The Alien Bug'
(Life is tough enough but something extremely weird starts happening
and the world closes in on Tim Sauvibec. Based on a true story.)
'The word alchemist'

'The special hands of Dorothy McGuire'
(Dorothy, ambidextrous, autistic and abused, discovers in herself a very special ability.
She can steal other people's feelings.)
Sheri: "John- I can't wait, I must read it."
'Monkey Island'
(Three men and a woman, an accident at sea, a survival situation develops… )
'The gift'
(An exploration of Clair-audience)
"The Fable of the Thirsty Son"
"J' MOI."